Patent classification business
Patent classification business Assignment of classifications to patent applications, etc.
For example, in a library, the book classification system allows a user to find the book of his/her choice from among a large number of books.
Similarly, patent classifications are assigned to each of the patent documents, etc. filed with the JPO in order to make efficient search of patent documents, etc. possible. There are multiple patent classification systems such as the International Patent Classification (IPC), which is an international unified system, and the FI system and the F term system, which are unique to Japan. Classifications are assigned in accordance with the technical information contained in each patent document. In a prior art search, documents, etc. are searched by using a patent classification as a search key. Thus, it is extremely important to have a correct and complete classification assigned to each document, etc.
The IPCC conducts classification assignment to patent applications, etc. outsourced by the JPO and so far has handled more than 30,000,000 cases of classification assignment.

Patent classification business
The IPCC assigns FI and F-Terms classifications to pre-publication patent applications and reassigns F-Terms classifications to patent application publications (reassignment of FI classifications and F-Terms classifications newly created to keep up with technical advancement)
When assigning classifications to a patent application, the IPCC obtains the electronic data of the application from the JPO and identifies the technical field of the claimed technology by using the IPCC's unique system (automatic preprocessing).
Subsequently, a professional engineer versed in that field assigns a classification. In some cases, the engineer needs to assign a classification that covers multiple technical fields and has to ask a professional engineer versed in another field to assign another classification. In order to assign correct and complete classifications, the collaboration of professional engineers who are versed in different technical fields is indispensable. Such collaboration is possible at the IPCC only because it has professional engineers from all technical fields.
The assigned classifications are subject to a sample check by JPO examiners in order to improve classification accuracy.
The finalized classification data is delivered to the JPO online and inserted into the patent document search system for future use in prior art searches, etc.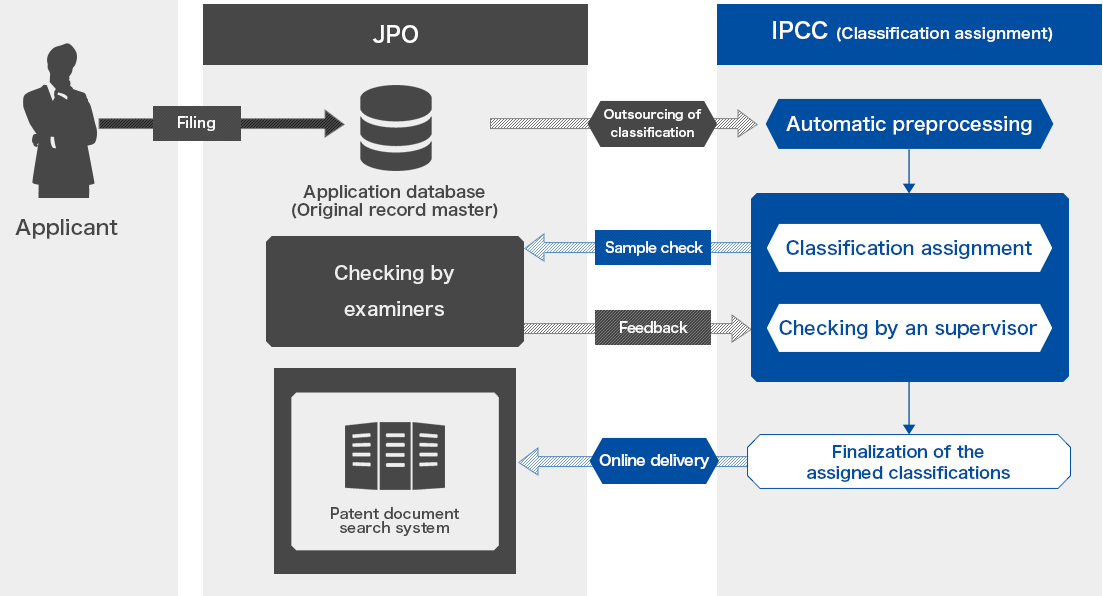 Increase in the number of cases of classification
With the progress in the digitalization of paper examination documents such as the Patent Gazette and the establishment of the patent document search system, the number of cases of classification handled by the IPCC peaked in around the beginning of 1990s. Since then, the number of cases has gradually decreased. However, the number of outsourced cases of classification has significantly increased since FY2014 with a greater need for a better prior art search environment in order to establish a global intellectual property system.
The IPCC is expected to play a greater role not only in prior art searches but also in the classification process.
Cases of classification (in each FY)